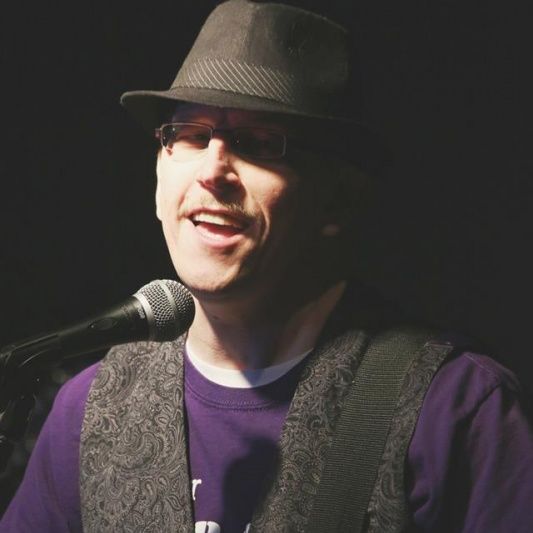 Frank Patek
Vocals, Guitar, Keyboard
Frank is a wild guy!  Not only is he extremely talented as a singer / songwriter, but he is also proficient in several different instruments including rhythm guitar, bass guitar, piano, and drums.  But it's his singing that brings out the beast in him!  Born and raised in Milwaukee, Wisconsin, he says he must have first become interested in music from his mother's womb because he doesn't remember a time he didn't have music in his heart and a song in his head.  He began performing as soon as he could talk.  He and his mother would sing together, entertaining themselves and anyone who happened to be around.  His mother saw the skill in him, the potential, the desire -- and she nurtured it with her whole heart.  Singing is his life.  He gets so energized, puts so much of himself into it, and enjoys it so much.  He takes his feedback from the audience and plays right into their hearts.
Frank loves Inner Ally's mission of helping others and bettering the community.  He assists people at his day job who have run into financial struggles, so Inner Ally is the perfect fit for him.
Don't miss out on seeing Frank perform with Inner Ally.  He'll be the guy belting out power vocals, wailing on the guitar, and dancing around the stage!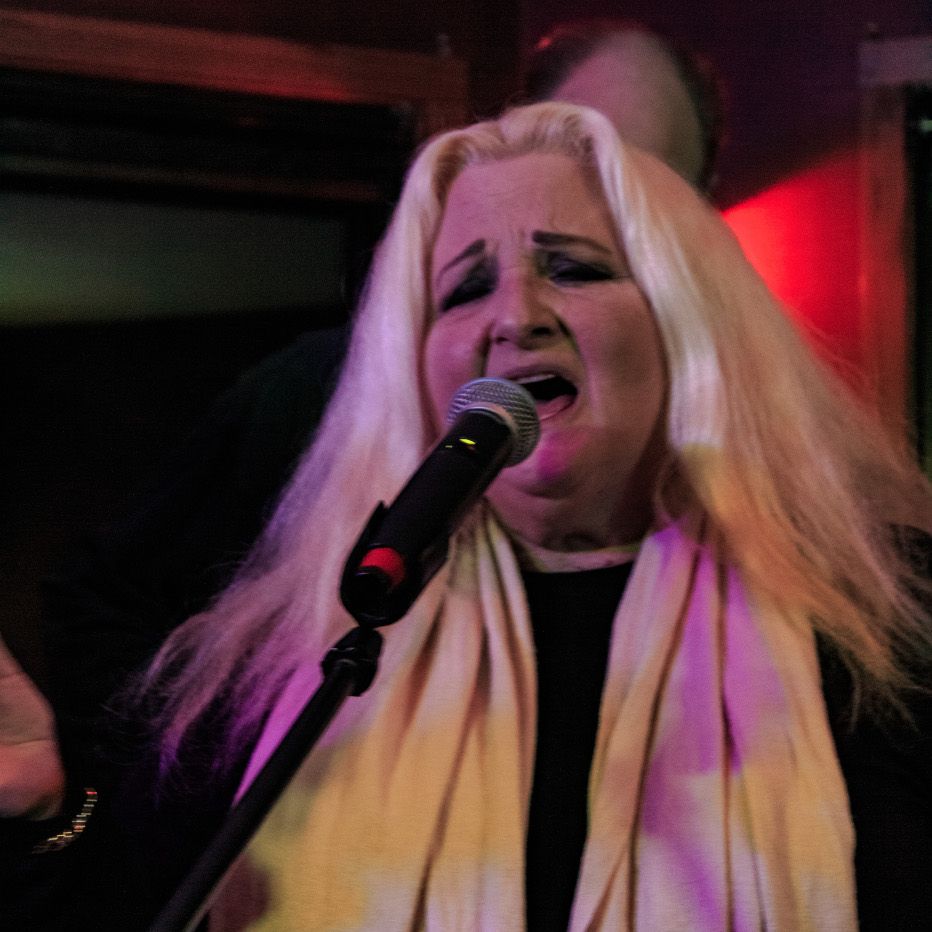 Katherine Greiner
Vocals
Katherine is known as the funky and free-spirited lead female vocalist of Inner Ally, but it's obvious to fans that this is not her first time at the rodeo, so to speak.  Katherine has been involved in music her whole life!  All of her family members either sang or played an instrument, and Katherine was no exception.  As a young adult, Katherine was an integral part of a blues band, and has since lent her glorious vocal chops to numerous area groups.  However, at her core, Katherine says, "I am a rocker!"  She's as feisty off stage as she is on: she likes to ride horses and motorcycles in her free time.  Nevertheless, what Katherine likes most is spending time with her five grandchildren.
Katherine is no stranger to helping others: She's spent her career as an AODA counselor and has been involved in volunteer work to assist those struggling with life threatening addictions.  Inner Ally's mission of bettering the community is a natural for Katherine, and she hopes that her fans get a break from all the problems of this dark, confusing world at her concerts, and see more of the solutions!  You can't miss Katherine on stage with Inner Ally — she'll be the brassy alto blowing away the audience with her powerful voice!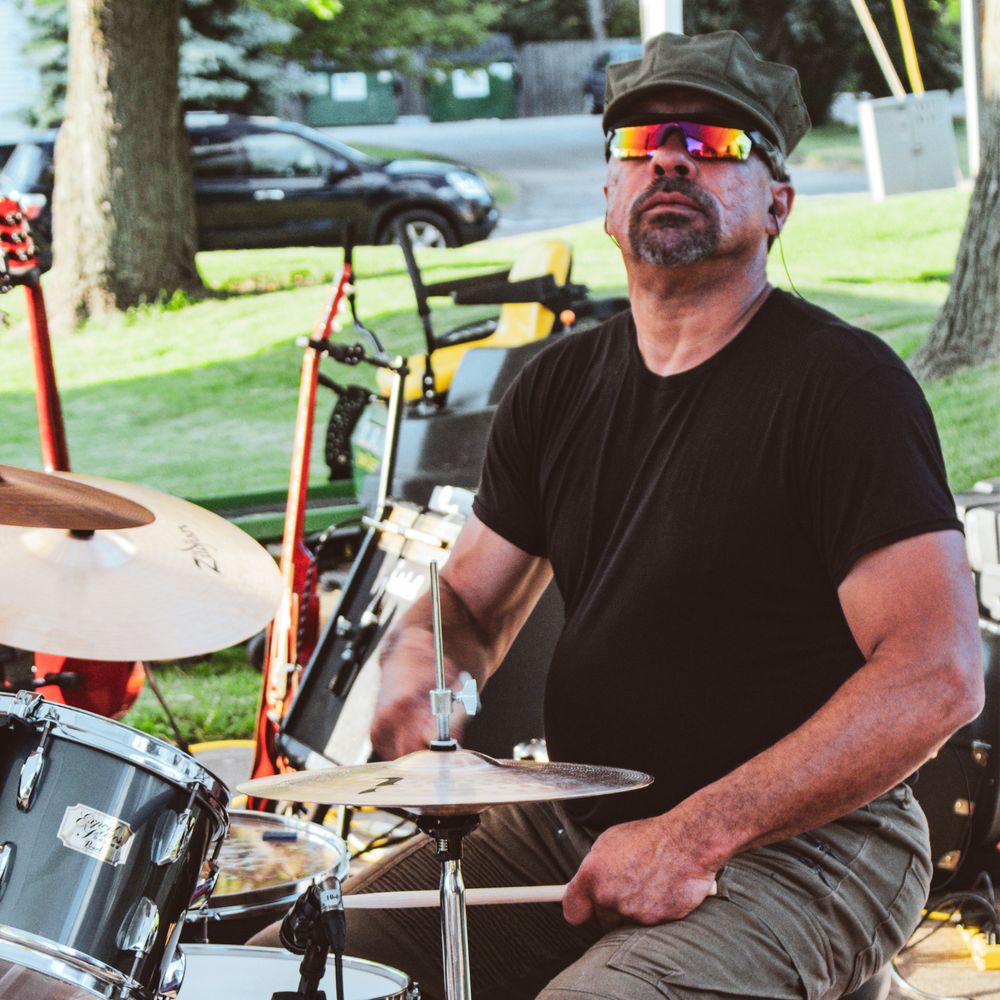 Steve Nelsen
Drums
Steve Nelson is known as the strong one of the band, bringing his energy and stamina to Inner Ally on the drums.  It's nothing for Steve to construct a performance platform, do the lion's share of setting up the stage for a performance, and proceed to pound on the drums for a three hour performance in 95 degree heat!  An original co-founder of Inner Ally, Steve learned to play drums from his cousin as a young adult.  Since then Steve has perfected his craft and has provided the percussion for other musical ventures, including RocSaltJohn, his previous band.  Steve is instrumental (no pun intended) in all aspects of the band from the technical side to the marketing side.  Steve enjoys spending time with his son Cameron and his large extended family, and the band loves performing at his family reunions!  Part Black Foot Indian, Steve has a sense of rhythm that helps keep such a large band as Inner Ally on task and well-paced.  He even raps at karaoke bars !  He loves to serve the community, and has volunteered his time to numerous community festivals.
To hear Steve's footprint on the band, just crank up the bass when listening to your favorite Inner Ally track and be prepared to stomp your feet along with the drums!  Don't miss him showing off his skills at the next Inner Ally event!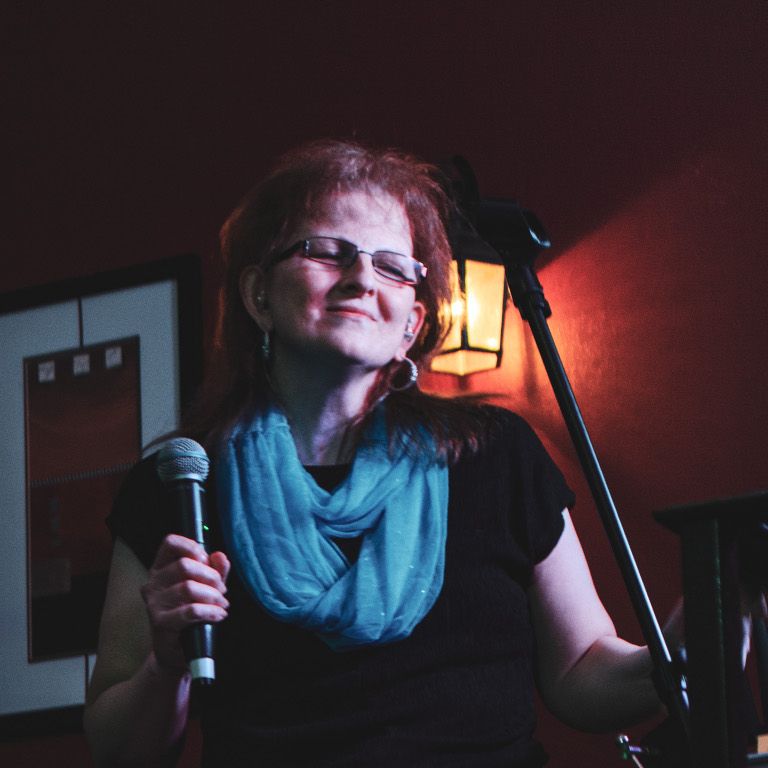 Kathy Patek
Vocals
Kathy is the namesake of Inner Ally's popular track "Kathy's song!" Her husband, band front man Frank Patek, wrote the song for her on their 10th anniversary.  She started her music career singing Elvis songs in her attic with her sister, pretending that a broom handle was a microphone!  She also remembers singing "Leaving on a Jet Plane" on her swing set.  Her grandparents were so enamored with her talents that they brought up a tape recorder from Kentucky to record her singing!
Kathy has spent a lifetime in service to others, in both her career and in her personal life.  She's helped special needs children, and has acted as an Activitiy Director for the elderly.  Kathy says helping others brings her great joy!
Being a member of Inner Ally gives Kathy the perfect opportunity to combine the three great loves of her life: helping others, music, and her husband.  She's a tremendous asset to the band — her on-stage energy is infectious and gets the audience on their feet at concerts.  Kathy hopes that Inner Ally's fans experience the same joy at the band's concerts that she has while performing.
Look for Kathy at upcoming Inner Ally events.  She'll be the one onstage who never runs out of energy!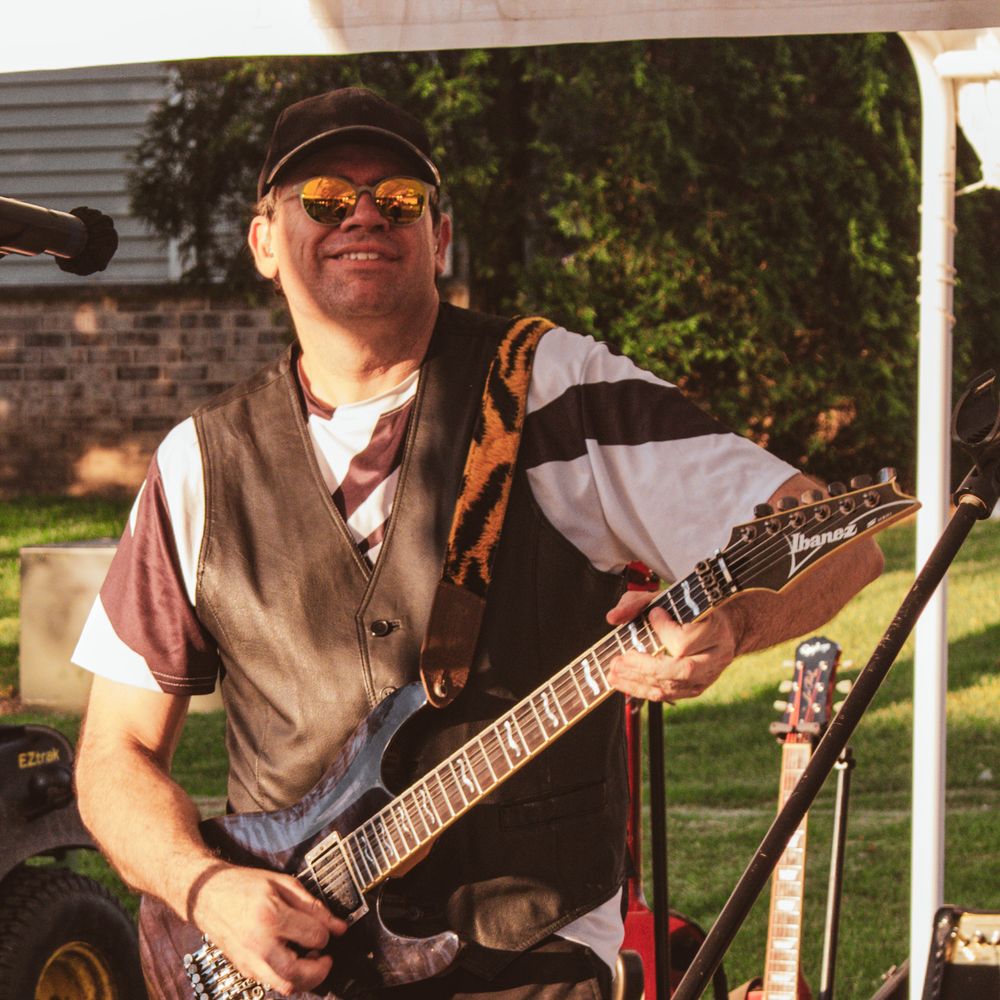 Steve Suess
Lead Guitar, Vocals
Steve Suess has loved music since he grew ears, and his interest in playing guitar was driven by his enjoyment of hard rock music coupled with inspiration from a high school friend back in the '80s who played guitar very well and still loves to rock it.  He played rhythm guitar in his early years with a few garage bands, and steadily progressed in his ability to sing and improvise on lead guitar by learning to "feel it".  He also has a wide vocal range, and just loves to sing and play with the goal of bringing joy and happiness to anyone who could use a little of both.
Steve enjoys serving and encouraging others and will gladly lend a helping hand.  In addition to having played at various charitable events with two different bands, Steve has participated in serving the community through Red Cross volunteer events and the National Make a Difference Day.
Steve loves to smile, and his smile is contagious.  He is very proud of his two sons, Preston and Lewis.  Although he suffered the painful loss of his wife (Colleen) to cancer in June of 2018, he takes comfort in knowing that she is now in a place where she can forget all about the concept of pain and suffering. He has learned some new things about himself since losing her and discovered a natural talent for cooking.
Steve wants you to be encouraged by his uplifting attitude and his music.  Don't be surprised if he throws in an '80s hard rock-style guitar riff every so often.  He really can't resist it.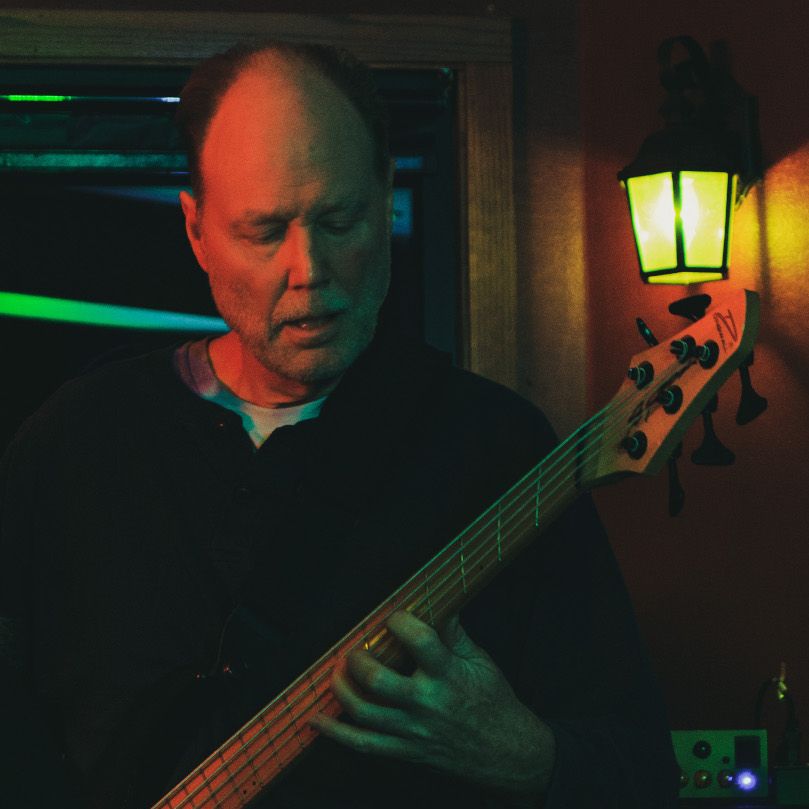 Christopher Potts
Bass Guitar
Chris enjoys bringing the low end to rock and roll classics as well as Inner Ally originals.  Chris' credits his musical roots largely to his mom's insistence that all the kids play a musical instrument early on.  Chris started out on piano, progressed to violin, and then switched to string bass and later changed to electric bass. 
Chris drives 18-wheels around the greater Milwaukee area for a living.  His advice to drivers of any age and any vehicle is: "Drive defensively (don't assume you know what the other person is doing), drive as though someone you really love is right next to you (pay attention to your surroundings), and use your turn signal (we're not mind readers)". :)
Finally, in this life journey thing we are all on, people close to you matter!  Chris is grateful for his ex-wife (you read that right!) throughout the years, and extremely proud of his daughter and son who have launched their careers.  Chris is very thankful for the memory of his mom, his dad (who recently turned 91!), brother and sister, as well as all his extended family.  "Although I don't know everyone as well as I would like, I am profoundly proud of you, your impact in the world, and in my life.  Love ya!"
One more thing -- we (Inner Ally) hope that our experience in rocking out together would be fun for all of us, and that as we go our separate ways, we would impact our world in a positive way!