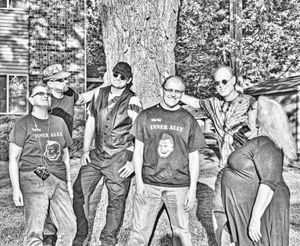 Inner Ally is a unique band that hails from Milwaukee, Wisconsin.  Their music brings you back to the vocal driven guitar rock of the 1960's through the 1990's featuring great rhythms and strong multi-part harmonies. Using primarily cover songs as well as their originals, the band aims to choose specific songs with specific lyrics to weave into every performance a message of hope which our world desperately needs to hear.  As a lyric from one of Inner Ally's songs "Stand By You" says, "Look around you and you'll see.  It's not as bad as you imagine it to be".  
Inner Ally formed in July of 2014 and released their debut E.P. entitled "E.P. ONE" in April of 2017.
One year later, the band released it's 2nd E.P. entitled EP 2.
In 2020, we released an LP album entitled "Hollywood". 
Stay tuned as Inner Ally continues to record and release original singles!
 
Our current band members are: 
Frank Patek  (Lead Vocals, Guitar, Keyboards, Drums)
Katherine Greiner (Lead Vocals)
Kathy Patek (Backup Vocals)
Steve Suess (Lead Guitar, Vocals)
Steve Nelsen (Drums)
Christopher Potts (Bass Guitar)
Our Band Leader is Frank Patek. 
Our Band Manager is Tim Pierce.
Our Booking Agent could be you!
Special shoutout to Art -- Sound Engineer extraordinaire! 
And of course
MANY THANKS
go out 
TO YOU!
We so appreciate your support and encouragement!
---

For booking, email us at:  Innerallyall@gmail.com.